Long time with no activity on blog but a lot of activity in life.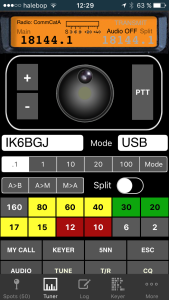 I have been playing around with a new remote setup for the last couple of days. Finally decided to try to use my mobile phone for access to radio. This gives opportunity to make a few qsos when on lunch break at work or when driving the daughters for a shopping trip to the mall.
The setup I have tried and got to work with excellent results is Commcat mobile and qsxer made by Howard W6HN. Such a fun setup.
I have an app on the iPhone called commcat mobile and on a PC connected to the radio I have a program called qsxer. You have to register an account but it's free. The qsxer controls the rig. Either directly or via Ham radio deluxe. I use it with direct control. That also gives me the possibility to operate cw.
I had some initial problems with the qsxer software. But Howard's support have been excellent. We have sent at least 20 emails back and forth for the last days, even Saturday. I got a beta version of qsxer and found some bugs. Everytime I have reported a bug it has taken less than an hour until I have had a new version with the bug fixed. Amazing.
It also have built in audio support, voip. That is a subscription service and the only thing costing money in this setup. It's not expensive and worth the price. I will not give the price here since I know will change. Using the audio in Sweden is usable but not perfect since it bounces on a server in US and delays are a tiny bit long.
Today I have used another audio setup with a sip client on the phone and a sip client on the PC with peer 2 peer connection. I have worked a bunch of stations on 17m and one station commented when I described my setup. I would never have guessed you were operating remote.  The audio is perfect. That was with 59 signals.
The iPhone client have dx cluster. Rig control, log book, cw keyer  and much more. Give it a go, it's great fun to enjoy radio from anywhere.